Directions for use
Write on the baby bottle label using the provided dry erase marker.
Let it dry and put it on a bottle. If warming a bottle in water, remove any moisture from the label by gently applying a dry towel. Do not wipe the label when wet as it will remove the writing.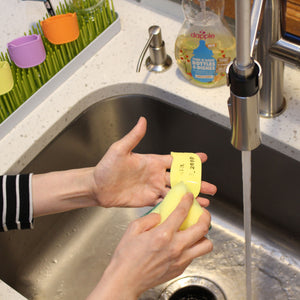 To remove writing, simply rinse the label with water and scrub/wipe off with a sponge.
Perfect Bottle Labels for Daycare
Each package of Stretch Bear Reusable Baby Bottle Labels contains six high quality, stretchable silicone labels, each sporting our unique bear-face design and its own color, making it easy to code them by day, child, or specific use. This is particularly great if you have multiple children. One may need a baby bottle label for daycare, while another may need a sippy cup label for preschool. No matter what, we have you covered. Find your bottle, find a high-quality silicone label and stretch it to fit and you are good to go.